REBECCA MAILLOUX
(January 2006)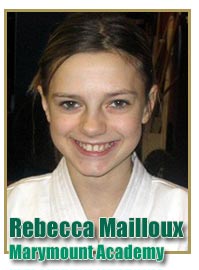 It may not be one of the more traditional sports for young athletes, but a silver medal at a World Championship is always an impressive achievement. Twelve year old Rebecca Mailloux of Sudbury finished second in both the individual open kata and traditional kata as more than 2000 athletes from 34 countries gathered in Niagara Falls before Christmas.
"My sister and brother play hockey and I wanted to try something different" said Mailloux of the sport that first picked up at age five, beginning tournament competition by age seven. And her recent success follows on the heels of an on-going road of karate excellence as Mailloux notes that she's finished either first or second in every tournament that she has ever entered.
In fact, she followed her world championship medal winning performance by narrowly missing Gold at the prestigious National Blackbelt League Super Grands in Buffalo in late December, falling short in traditional kata by 1/100th. But the Grade 7 Marymount Academy student is quick to point out that there is far more than the excitement of competition to garner from these events.
"I really liked watching competitors from other countries – Italy, USA, England… - it was weird to see people from all over the world doing the same routines you practiced" noted Mailloux. An extremely devoted athlete who practices in some way, shape or form every single day, Mailloux admits she's tried many other sports but realizes karate is her passion.
"I think of it all the time – when I'm doing my form, I'm usually very confident. I'm in my zone" explains Mailloux. With a background in gymnastics which she acknowledges helps her flexibility, the constantly-smiling pre-teen is hopeful that her sport gets added to the Olympics some day.