SAMMY BEHNKE-GROVES
(March 2005)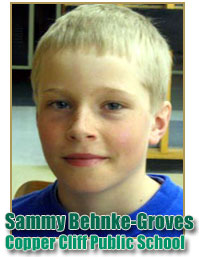 While Sammy Behnke-Groves is like most typical 11 year-olds, participating in a variety of sports and hobbies that includes hockey, lacrosse and snow-boarding, it's on the volleyball court that he truly excels. Having picked up the sport at the age of eight, Behnke-Groves has joined his Grade 7 and 8 schoolmates for the past two seasons, playing up with the school's senior team.
"I like the challenge of playing against the seniors – there are more plays and the kids are obviously bigger" says the youngster who hopes to ply his volleyball skills at Lockerby Composite in a few years times. His game memories include a wonderful diving one-handed "dig return" from a much taller opponent. "He was really big" said Behnke-Groves, "at least 5'5"!" noted the Copper Cliff athlete who stands closer to 4'8".
Behnke-Groves is looking to return for another summer of lacrosse now that he's mastered how to set up properly for the faceoff and will likely rejoin the Copper Cliff Minor Hockey Association in the fall of 2005.