MADISON LABERGE
(September 2015)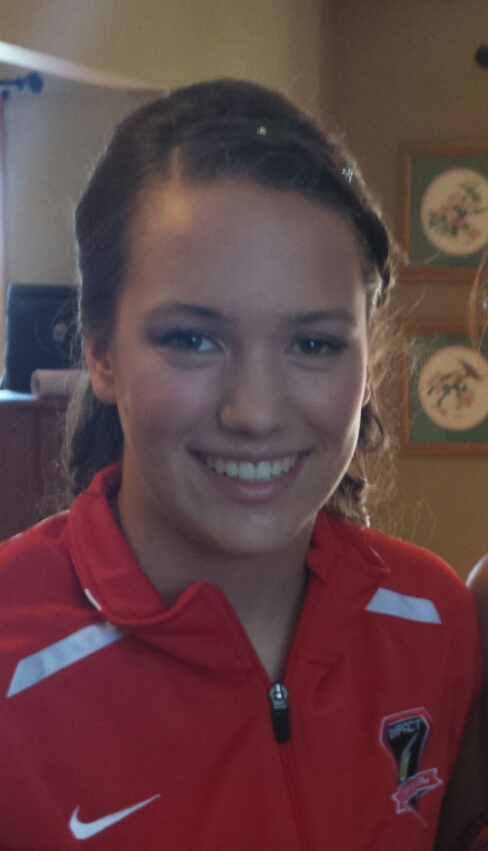 In hockey, soccer, and elsewhere, Madison Laberge has seen a lot of change, moving from one position to the next. The constant, however, has been sports.
The grade 8 student at Pinecrest Public School can scarcely remember a time when there wasn't a physical activity of some sort right at her doorstep – literally.
"I remember when I was really young, playing hockey in my backyard," noted the 14 year-old talent. "Our yard is really big, but we used to have the ice rink right up to the door. I was probably about four."
The middle of three children in the family, Laberge has garnered rave reviews both in hockey and soccer, though she's not about to tip her hand quite yet about which will ultimately win out as her number one passion.
"If it's hockey season, then I like hockey more, but in soccer season, I like soccer more," she said. "I've had opportunities in both of them." A forward when she started out with the Nickel City Hockey Association, Laberge moved to defense on the urging of her coach, a few years before she crossed over to the Sudbury Lady Wolves.
"I liked playing with the boys," she acknowledged. "But I had broken my arms, and there was hitting at that age. And the friendships in girls are great. It's an easier environment to get to know everyone."
Having just cracked the roster of the national champion Midget "AA" team for the upcoming season, the only underager on the two-time Ontario champs, Laberge noted an adjustment when she moved to all-girls hockey.
"You couldn't use your body as much, which was hard to get used to," she said. "I like a more offensive role. I rush the puck a lot, but I don't score as much as I should. I can get in the zone, but I just don't take my time with the puck."
Currently finishing off her fourth summer with coach Marilyn Bodson and the Sudbury Impact U14 girls soccer team, Laberge has also bounced around a fair bit, in search of the position that best suits the skill-set she brings to the pitch.
"I played all over when I was young, everywhere except defense," said Laberge. "Last year, I started as defense with Marilyn, but she moved me up to a striking mid."
From this spot on the field, the Sudbury crew can take advantage of the teen's outstanding kicking ability, one of few players on her team who can drill a ball from forty yards out or more, with the velocity needed to beat competitive keepers from across the province.
Mixing in her sporting experience at Pinecrest with some track and field, badminton and volleyball, Laberge suggests that the only sport that really did not seem like a great fit was basketball. "I don't like the no-contact," she said.
"I fouled out in my very first game." Somewhat surprisingly, that assertiveness has not yet caused her much trouble when it comes to her two primary pursuits. "I don't take a lot of penalties in hockey," she noted. "I guess I'm kind of a "good" aggressive."