Mini tournament kick starts a year of major development
2023-11-15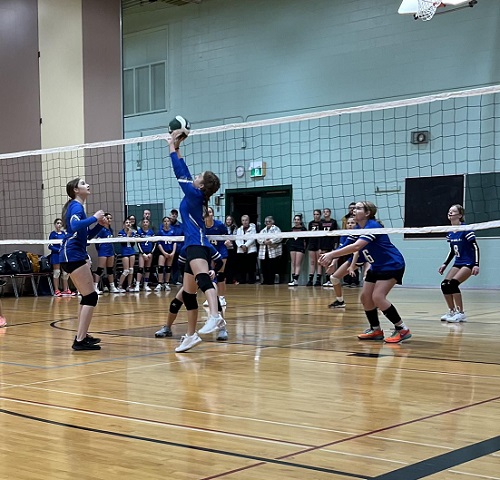 You've got to start somewhere.
Taking a very young 13U girls team into the 2023-2024 season, the third Northern Chill Volleyball Club entry into this particular age bracket, White Ice head coach Sheri Gazzola will preach plenty of patience this year.
Her crew got things started with a mini-tournament a little over a week ago at the Lionel Lalonde Centre in Azilda, facing a pair of more experienced Chill teams as well as an entry from Sault Ste Marie.
The team would fall to both the Black Ice (9-25, 12-25) and Blue Ice (20-25, 10-25), but did manage to keep things noticeably closer when facing their northern rivals to the west, beaten 23-25, 19-25 by the Sault.
"Although we lost all of our games, the girls were working hard and are trying the new skills that we have been working on during practices," said Gazzola. "The season is young and we have a very young team who are all committed and enthusiastic about the game."
"I'm looking forward to even more improvement during the coming year."
The White Ice will take to the court for their first official OVA (Ontario Volleyball Association) tournament this coming Sunday (November 19th), part of the ten team field that will gather at Eastview Secondary School in Barrie for 6 v 6 Girls Provincial Cup – Trillium D play.
The 2023-2024 roster for the Northern Chill White Ice includes Daya Bascom, Laken Lemieux, Cloe St Amant, Isabelle Séguin, Lauren Sten, Alexis Lamontagne, Chloe Cothill, Sophia Salmaso, head coach Sheri Gazzola, assistant coach Lucia Salmaso and team manager Pamela Lamontagne.