A Scotiabank Cup banner for the Nickel City Sons
2021-11-22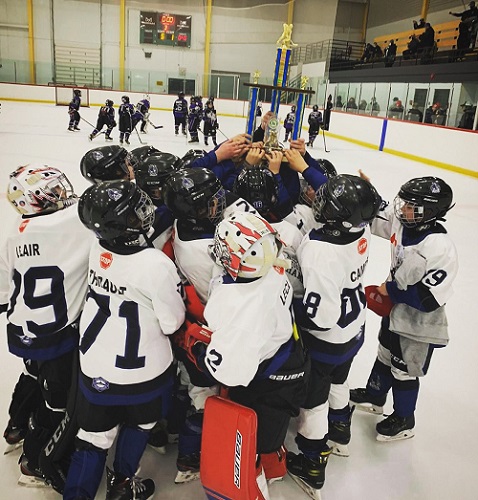 "We didn't know what to expect," suggested Nickel City U10 AA Sons' head coach Robert Dubois, looking back on the first tournament of the season for his young team.
One could argue that it would have been hard for Dubois to expect anything more as the locals captured the Mississauga Scotiabank Cup, winning three of their four round robin games before defeating both the Barrie Colts (3-2 in the semi-final) and the Rideau St Lawrence Kings (5-1 in the championship encounter).
Brayden Neault and Darren Harvey scored two goals apiece in the final, with Tristan Mann adding a solo marker and Dylan Campeau and Matthew Christakos chipping in with two helpers each.
The Sons opened with victories over Rideau St Lawrence (3-0), Barrie (3-2) and the Richmond Hill Stars (7-0) before receiving something of a wake-up call with a 3-2 loss at the hands of the Faustina Toros.
All in all, coach Dubois and company had little to complain about.
"We had seven kids that we had coached before, but there's some new ones that I had never seen," he said. "Because of Covid, some of those kids stayed with the "A" group (in 2020-2021). It's a real mix of players."
That, however, is a challenge that Dubois and his assistant coaches (Don Campeau, Dan Leclair, Aaron Mann, Nathan Thibault, Paul Leclair) will gladly tackle.
"It's pretty difficult to try and put 17 kids on the same page," acknowledged Dubois. "Every day, we look out on the practices and the games and we try to teach even better, to find another way to relate it to them."
Certainly the pandemic has added another layer of hurdles, with one player forced to remain home and quarantine during the tournament. Thankfully, that provided a bit of a rallying cry for the locals, who used both video chats and a sign and fake jersey to make sure that one and all felt part of the championship effort.
"We wanted to play this tournament for him," said Dubois.
With a couple more events fast approaching on the horizon, the Nickel City lads will continue to work through the skill development and systems common to young prospects of this age.
"We're doing breakouts, positioning - both offense and defense, a lot of repetition," said Dubois. "We're trying to teach the D to close the gaps. We have flow drills that have break-ins and breakouts."
"The things that we are doing in practice are really sticking with them."
Rounding out the Sons' roster are Bennet Bouchard, Carter Dunn, Carter Leclair, Daxim Dubois, Ty Thibault, Daxim Lacroix, Gareth Mead, J.J. Clouthier, Keagan Thibault, Maxim Leclair, Noah Therrien, Weston Coates as well as team managers Jen Christakos and Erin Coates.