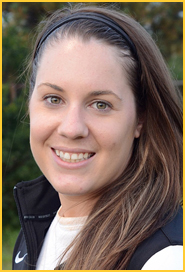 On a team laced with ultra-talented offensive weapons and impressive defenders, Kendall Borgogelli provides a different type of leadership. For very good reason.
At the age of 27 and finishing her fifth and final year of OCAA eligibility with the Cambrian Golden Shield women's soccer team this past fall, the native of Sault Ste Marie has seen it all during her tenure with the team, amassing experiences that easily equal or surpass the bulk of her teammates combined.
It is this stabilizing presence that coach Giuseppe Politi, only a few years her elder, initially recognized and persisted in attracting back year after year. A competitive ringette player through much of her youth, Borgogelli only crossed over to soccer in grade 8, suiting up for three years with the St Charles College Cardinals as she moved to Sudbury with her family at the age of sixteen.
From there, it was off to Western University for three years in Health Sciences, enjoying some intramural soccer during the school year and competing with Toronto TNT of the OWSL during the summers.
At that stage, her skill-set suited the role of striker. "I was quick, back in the day, running track in high school," Borgogelli said with a smile. In the eyes of coach Politi, just a few years later, a dramatic change of position would be required.
"I'm a left fullback here," she said. "I can clear balls with my head to the left and right. And he likes my tenacity. I will not back down on a challenge. I will slike tackle anywhere, that's where I am strong."
"I've slowly gotten better with my touch," added the soon-to-be graduate of Nursing at Cambrian. A natural left-footer, Borgogelli was hesitant to return in 2014, understanding that the demands of her academic program would be heavy this year.
"This year, I wasn't coming," she admitted. "Then they convinced me to, because it was my last year. It's the drive to do better than we did last year." And that they did. And if some athletes second guess handing themselves over to the vocal directions of Politi, Borgogelli is among a large group who appreciate the feedback.
"Sometimes he's rough and he's hard, but he gets results," she said of the OCAA East Division Coach of the Year. "He knows the game better than anyone. No one on the team takes it personally, we know he only wants us to get better."
"His approach is a little louder than most, but it works," she added. "You almost want to hear him when you're out on the field. You worry if it's quiet." That ability to remain realistically grounded is just part of the reason that Kendall Borgogelli is such a key cog in the Cambrian soccer wheel.
"I am kind of the mother figure, or maybe the big sister," she laughed. "I'm almost ten years older than some of them." And that experience, both in life, and on the field, often came in handy.