Matt Neault
(November 2017)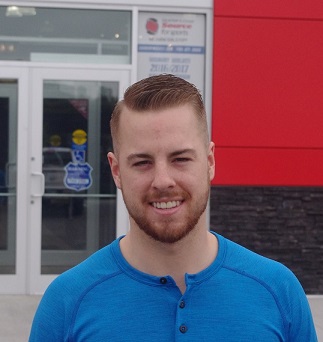 Matt Neault is understandably proud to be donning the "C" for the Rayside-Balfour Canadians this year.
Now in his fifth and final year in the Northern Ontario Junior Hockey League - Neault is on pace to break the all-time NOJHL games played record currently held by former defenceman turned official Chris Pontes - Neault is actually taking on the captaincy for the first time in his hockey career.
Far be it for anyone to suggest that the now 20 year old constituted any kind of child prodigy when he first stepped out on the ice.
"I was kind of a late bloomer," suggested the younger of two hockey playing boys in the family. "I started in houseleague, tried out for the "A" team in Walden, in novice I think, and I remember my first year, I got cut."
"I didn't really like that," he said with a smile. "I remember crying myself to sleep. The next year I came back and made the team." That perseverance, that dedication, has been a hallmark of his game, right through his minor hockey career and beyond. Over time, the hockey skills would catch up.
"I kind of developed more, my skating and stuff got better, as I got older. Then I was able to keep up with them and have puck skills, just like them." Better, perhaps, but not good enough for "AAA" hockey, at least not the first time around.
"I tried out for the major peewee Wolves," Neault recalled. "I went back and played "AA" and had an awesome year, put up a lot of points and really developed." Do not count Neault among those who contend that not cracking a lineup at the highest level of hockey carries with it an automatic regression in the growth of your game.
"Going down to "A" or "AA" after not making the "AAA" team, it helps you develop way more," said Neault. "You have more confidence with the puck, your skating gets better because you can do more things than you could at the higher level."
His steadfast approach has remained consistent, even as he found himself bypassed by OHL scouts in his minor midget year. "As soon as I didn't get drafted, I said to myself, "I've got to go to work." I just wanted to make a team as a walk on."
"For my next step, to make the jump, I knew I would have to play at a higher level, push myself. I knew I had to go in and work hard. You don't have a lot of roles that you can fill as a 16 year old."
Playing his rookie junior campaign as a member of the Blind River Beavers, Neault would catch the eye of the brass of the Sudbury Nickel Barons, acquired in a trade very early in his sophomore season.
Over time, Neault has seen his game altered at times, partly due to working under a trio of well respected coaches that has included Doug McEwan, Jason Young and Dave Clancy, and partly because his experience in the league allows his role to expand.
"You have to change your game, depending on the coach," admitted Neault. "The first two years, I threw my body around a lot more, I was more of an "in your face" guy. Slowly, as I've gotten older and had different coaches, they want me to get out of that role, become more of a goal scorer."
Through it all, the vision of his end goal remained unchanged. "I've just always had that drive, always had that dream of playing in a professional hockey league, whether it's overseas or whatever," he said.
The choice, this season, for Rayside, was somewhat obvious. "I kind of had an idea that it might happen (captaincy), having a letter last season and being the only remaining guy that had one," said Neault. "I think they like my character and leadership. No matter what, I'm always smiling and laughing with the boys."
And though his plans, post-NOJHL, are not yet solidified, hockey is certainly in the mix, if Matt Neault has his way. "I would like to try and play CIS (university) hockey, develop from there."