The end of an era - and the end of summer soccer
2023-09-09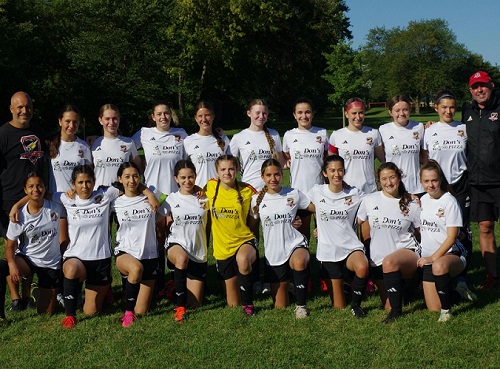 As a whole slew of summer sports leagues wrapped up play over the course of the past four to six weeks, we are reminded of the indispensability of those volunteers who ensure that the organizational structure that allows these activities to prosper is established and fine-tuned in the off-season.
When it comes to the various adult leagues, these tasks are often performed by those who are also league participants – or at least were, at some point in time.
For as much as Nicole Gravelle has been synonymous with the Sudbury Women's Soccer Club for the past two decades or so, Janet Fortin can predate that involvement by another twenty years, back to the early eighties and that time when she launched herself into soccer while Gravelle was still a force to be reckoned with on the local fastball and broomball circuits.
"I think I remember reading something in the paper and my sister mentioned that they were looking at starting a women's soccer league that was coinciding with (the launch of) Sudburnia Soccer," said Fortin. While Sudburnia was created primarily for youth, an offering to a previously un-serviced sector seemed to make sense.
"I lived right near Queen's Athletic Field and I would go and stand and watch the men play – but there was no women's soccer," continued the now 66 year old who played well past her 50th birthday and remained a member of the league executive through until the fall of 2022. "We had four teams that first year (1981) – we were just four different colours because we didn't have any sponsors."
By 1983, the league had doubled in size – and despite there being little in the way of girls youth soccer that was available for those like Fortin who were being introduced to the sport in the early adulthood, help was on the way.
"It wasn't bad soccer," said Fortin with a laugh. "Greg Zorbas (long-time Laurentian University coach and Sudbury Sports Hall of Fame inductee) had quite a few clinics and a lot of us went and learned how to kick a soccer ball. It was probably more recreational to begin with but when soccer became more popular for the girls, we had more ladies who had played competitive."
"Sometimes the referees had to talk to them and remind them that we had jobs to get to the next day. They were a little more competitive than we were. Well, we were competitive, but our skill level wasn't the same. It got to be good soccer after a few years."
Between playing, coaching and administering, Fortin was a fixture of the SWSC dating back to when it was simply the Sudbury Ladies Soccer Club. But time takes a toll, as we know all too well. "I got to the point where I only played when I had to," she said.
Which doesn't make her memories of the league any less special.
"I just love soccer: the exercise, the game, having fun with your team," Fortin acknowledged. "I sometimes wish I had been born 40 years later."
That would put her, of course, smack dab into the middle of all of those GSSC (Greater Sudbury Soccer Club) Impact teams who either wrapped up league play last month, or are doing so in September.
With a 2-0 win over the Toronto CB Black Wolves (goals by Lukas Morin and Mishal Olanrewaju – shutout by Tyler Granthien) and a 1-1 tie against North Toronto Nitros (goal by Masimo Toffoli) at the end of August, the Impact U15 boys have given themselves at least a shot at third place in the Toronto Soccer League.
Coach Dino Moretta and company will book-end their final three league games this month around a tournament appearance in Richmond Hill (Sept 22nd – 24th), wrapping up a summer that featured plenty of progress.
"We're playing better soccer: moving the ball on the ground, more give and go's," said Moretta. "We're much better at playing out of the back. We're moving the ball to the wings and then crossing the ball in, scoring a lot of goals that way. We're just playing much more technical soccer."
"That's a tribute to the players and their commitment to practicing and staying with the program."
Where the history in youth competitive soccer in Sudbury is often that coaches lose perhaps half of their squad to "AA/AAA" hockey or other competitive sports in the winter, the GSSC is seeing a shift driven largely by the influx of new Canadians to the area – a fact that has clearly helped Moretta with his winter plans.
"I have a big core of kids that are just soccer players," he said. "Out of the 18 that I signed, probably 12 to 14 want to play indoors. We are seeing that more and more. The hope is to enter (GSSC) teams in the provincial indoor soccer league (11 v 11)."
Unfortunately, coach Doug Rosener and the Impact U16 girls do not share this reality with their male counterparts, though in assessing his team's improvement this summer, the energetic soccer mentor is very much walking in lockstep with Moretta and his squad.
"It's definitely our new found ability to possess and control the ball," Rosener said. "For better or worse, we are not blessed with a Kiara Levac where you can put it up there and she can take care of the rest."
"We have to play more for possession through the midfield and connect passes and get our scoring opportunities that way. The fact that everybody has learned how to do that and be patient is the biggest success this year."
With just a couple of summers remaining before his athletes move on to post-secondary ranks, Rosener is tickled pink with just how far this team has come.
"It was a team that wasn't blessed with a lot of raw soccer talent - but we've always been blessed with some very good athletes," he said. "The soccer specific talent hasn't always been there, which is what makes me most proud of these girls, developing into a team that can really play technically with the teams from down south."
The 2023 roster for the Impact U16 girls is as follows: Hailey Ayre, Kynlee Cresswell, Misaki Diavolitsis, Maia Hammell, Bella Massimiliano, Mya Massimiliano, Aiden Panella, Aria Petroski, Isabel Rheault, Kaylee Vaillancourt, Gabrielle Luoma, Bryn Hobson, Leticia Silva, Janelle Richer, Amy Flores, Grace Kalu, Izabel Courville, Olivia Ferguson-Soules, Natalia Begic, Alyssa Shallow, Isabelle Roy, Chiana Rocca, Brianna Dignard, Ava Massimiliano and Bianca Rocca.
The coaching staff featured Doug Rosener, assistant coaches Max Massimiliano and Caroline Kovacs and goalkeeping coach Chris Belanger.