A back at home lead-in to a World Half-Ironman race
2022-07-29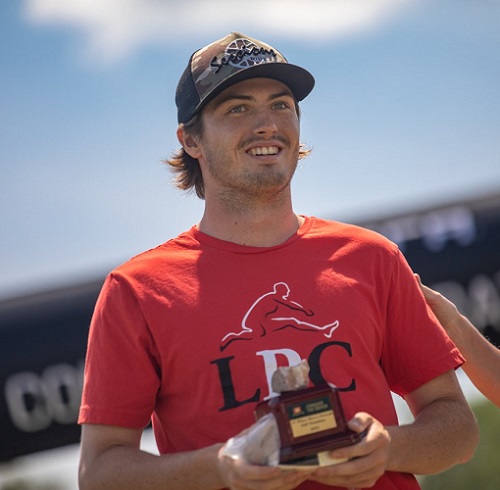 Come the end of October, Sudbury native Kelly Thompson will make his first real appearance on the international stage, having qualified for the Ironman 70.3 World Championship in St George, Utah.
This past weekend, however, the Lo-Ellen Park Secondary graduate who turns 22 on Thursday was more than happy to be back at home.
Preparing to begin his third year of Computer Science studies at Guelph University in the fall after spending a handful of terms at Laurentian, Thompson finished third on Saturday at the Conquer the Crater Full Distance off-road Triathlon at Kivi Park.
"You can't beat racing at home," said Thompson, now back in Guelph and readying for the Kingston Long-Course Triathlon this coming weekend. "It's a lot of fun to race at home. We don't get to do that very often, especially with triathlons. I put it on my calendar as soon as I saw that it was happening."
The event would take place just two weeks after Thompson successfully qualified for the World Championships, also by virtue of a third place finish, this one coming at the Subaru Ironman 70.3 Muskoka race. Covering the 1.2 mile swim/56 mile bike/13.1 mile run course in a time of 4:37.51, the former competitive swimmer and baseball player was almost twenty minutes clear of Phillippe Pouliot in fourth, with the top three earning a berth in Utah.
It's been quite the journey for a multi-sport athlete who never saw himself as elite in any particular sport, but first began enjoying triathlon success, primarily in northern Ontario, in the summers of 2017 and 2018.
Still racing the sprint triathlons in 2019, Thompson was gearing up to take the next step the following summer, that plan derailed in the spring by you know what. In fact, it wasn't until more than a year later, June of 2021, when he would really resume serious training in a big way.
As ultra distance athletes will attest, it takes a special breed to deal with the challenges of both training and racing for hours on end. "You're out there all day and a lot of the time, it's just you out there tackling the mental battle," said Thompson. "It's good to train with a group, sometimes, but if you can't get out there and do the work on your own, on race day, it will be tough."
With the move to Guelph and the renewed motivation towards his sport, Thompson is thankful for the benefits that come part and parcel of enjoying a proximity to others who share his passion. "It's nice to go to a pool and run into some guys that are doing this for a living, a couple of the pros, where you can hop in and swim with them for a bit."
Though the timeline was tight, the man who represented the Knights in cross-country and track and nordic skiing and swimming during his time at LOE – we are likely missing one or two other sports – opted to take his first crack at the Half-Ironman at the rescheduled Muskoka race, 2021.
There were plenty of takeaways from that, to be sure.
"You learn a lot on that first one," Thompson confessed. "Pacing is a big one. I spent too much energy in the first part of the swim and that set me up for a very long day ahead of me."
Interestingly enough, while he did have to adjust his training regimen when he moved from the sprint triathlon circuit to targetting the half Ironman, the changes may not have been as drastic as some might envision.
"I ramped it up a fair bit, more volume than anything, but with likely the same amount of high intensity stuff," said Thompson. "When you're doing the sprint triathlons, it's still an endurance event; it's just at a higher tempo the whole time."
"When you are training for something like that long grave race I did in Kansas (Unbound Gravel 200 – a 320 kms bike race), you have to know what your limit is and you try and stay there as long as possible and hope that you don't go into too much of a (caloric) deficit."
"You're going into a deficit, regardless, so it's more damage control, knowing when to push it and when to take it easy. In the cycling and triathlon world, it's called "bonking"."
And while some might think him bonkers, Thompson is adamant that the upcoming world showcase in Utah will not be his long.
"I am going there to try and have fun and learn a few more things," he said. "I am still relatively young in my age group (18-24). I still have a long way to go with the half, so a couple more years for sure and then re-assess from there."
Based on all that we have seen from Kelly Thompson to date, safe to suggest that a full Ironman is clearly not out of the question – though not likely in Sudbury.