Jamie Smith at vice-skip - a road to success
2022-03-24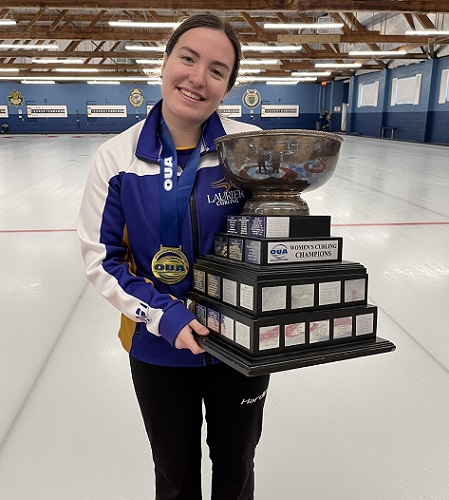 "I like to say that I like to play the position that is going to get wins."
That quote had already served local curler Jamie Smith well, prior to the start of the 2021-2022 season.
Given that she has now added victories at the Canadian U21 Women's Curling Championship, the OUA Women's Curling Championship and the Best Western U21 Provincials to her resume, giving her a shot at a second national crown in a span of less than six months, Smith may well take out copyrights on the 17 word saying to live by, emblazoning it on every piece of clothing she owns.
While the truth is that the 21 year old third year student of Financial Mathematics and youngest of two talented sisters in the family (Megan has also been a regular at nationals, capturing gold at the 2015 Canada Winter Games) would undoubtedly shine at any position, it is in the role of vice-skip where she has most helped her teams in recent years.
"I am an "A" type personality; I like to be in the know, I like to have control over things," said Smith with a laugh. "In the third position, I probably have the most impact on the entire team since I have the most interaction with the entire team."
"I am kind of that connecting piece and having that kind of influence is something that I really enjoy."
A familiar face in local youth curling circles from the time that she was ten years old or so, Smith recalled the earliest of sibling comparisons, the standard familial rivalries that fade over time in favour of a more deeply rooted respect for all that her sister has accomplished.
"I remember I would count my years of eligibility in bantams and juniors, just to see how many times that I could win, if you start winning at the same age – which really is a little ridiculous," said Smith, spotting her sister about a three and a half year difference in age.
"When she started getting more serious and going to bigger events and representing the province and stuff, I remember going to some of those events and thinking how cool it was to even be playing there."
Perspective is a wonderful thing, and one which can only be achieved over time.
"One of the most important things that I learned was about losing at the school curling – and remembering that I would get pretty upset about it," said Smith. "Then a year goes by and you kind of realize how insignificant that event really was in the grand scheme of things. When I suffered bigger losses later, as I was growing up, I think I was able to put it in perspective and not take the losses too hard."
A decent enough overall athlete, Smith dabbled in multiple sports, even suiting up for a couple of years in the Sudbury Jam club basketball system. "I really liked that as well, but I definitely recognized that I wasn't the most amazing kid on the team," she suggested. "I thought that I had a lot more potential in curling than I did in basketball, so I eventually just stopped."
Good call. Smith clearly had the weight and the line nailed on that one.
While she has starred with a wide variety of teammates – she teamed with skip Isabelle Ladouceur in winning U21 nationals and the OUAs this winter before sliding over with Katy Lukowich for the more recent NOCA playdowns and a second shot at Canadians – Smith noted that her first real shot at vice skip provided a wonderful foundation to build around.
"In my first season with Bella (Croisier), I was jumping into a new role," said Smith. "I feel that I learned a lot from being in that role, from being on that team. When I started with them, the commitment level that we were putting in was a lot more than what I had done in the past. And then seeing the payoff for all that extra work was a big thing for me."
"We had what I would say, to this day, was my best ever early season run with cashpiels and such," Smith continued. "We never got worse than third place, which is incredible. We were all kind of surprised because you're kind of bound at some point not to do well in one."
And with the U21 World Championships in Sweden now backed up to May, Smith is focused on taking it all in stride. "I am going to try my best when I am there to remain in the moment and not think too far ahead," she said. "I really do want to soak up the experience and enjoy myself."
"But I also want to play really well and show off the hard work our team has put in."