Sudbury slo-pitch success at nationals
2021-10-15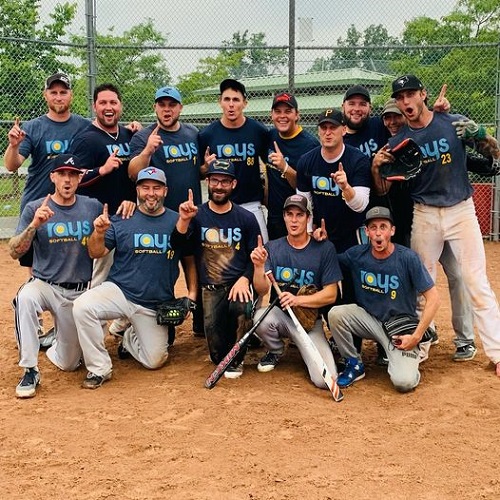 Sudbury based slo-pitch teams have long enjoyed success at provincials and this year was no different.
Showing the way in 2021 were the Sudbury Rays, unbeaten from start to finish in Niagara Falls and capturing the SPN All-Ontario "C" Division crown thanks to a 27-13 win over Team Equip.
The Rays were the number one seeds in Pool B, continuing their success through elimination play with victories over the Impact (24-12), the Selects (9-3) and the Cubs (14-9), before taking the gold medal affair.
The 2021 Sudbury Rays' roster included Jason Provincial, Jesse Audette, Chris Holden, Dave Fabilli, Grant Kilganon, Eric Quenneville, Alex Gagnon, Logan Bayer, Justin Henri, Mark Moffatt, Drew Duke, Chris Duke, Chad Goulet and Bob Daviau.
Recognized for her yeoman's efforts as team scorekeeper, Amy Young was voted MVP by the team, with batboy Levi Yuskew also acknowledged by the championship squad.
Meanwhile, in Division "D" play, Sudbury Charros would come up just short, dropping their semi-final encounter to the Belleville Jaxx, ending their run for glory.
In the playoff round, the locals went 2-1, bookending victories over both London (18-11) and Ottawa (15-1) around a loss to Mississauga (17-10).
With no lives to give, the Charros overcame an early 7-1 deficit, outscoring Barrie 19-7 and kept the bats rolling with a ten run outburst in the final inning, en route to a 22-15 triumph over Niagara Falls.
In their quarter-final match, the Sudbury gents clipped the Hamilton Cardinals 12-9, advancing the team to the final four.
The 2021 edition of the Sudbury Charros featured Jeff Rainville, Ray Briscoe, Travis Babe, Dave Shelsted, Kevin Bazinet, Craig Smith, Marc Doiron, Martin Riopel, Clinton Webb, Coty Thomas, Josh Goulais, Hector Alisappi and Derek Malkowski.